Share
Now that you are engaged… first off, CONGRATULATIONS! Secondly, the easy part is over now onto the planning your wedding. Here is a list of things you might not have thought of during the planning stage.
1. Selecting a location for your wedding?
This is something that needs to be discussed between the two of you a lot. This is the beginning of the process when planning your wedding. There are pros and cons to each one and must be decided between you two. One thing to remember is this is YOUR wedding. It is special and important to you and only you. Big wedding typically means local, because you are going to invite lots of family and friends and unless budget isn't an issue at all it might be expensive for everybody to travel somewhere exotic. If you are considering a bigger wedding with lots of guests. Places to think are hotels, large homes, and big venues. The good side of this is typically these are so much fun… big parties lots of dancing and tons of fun.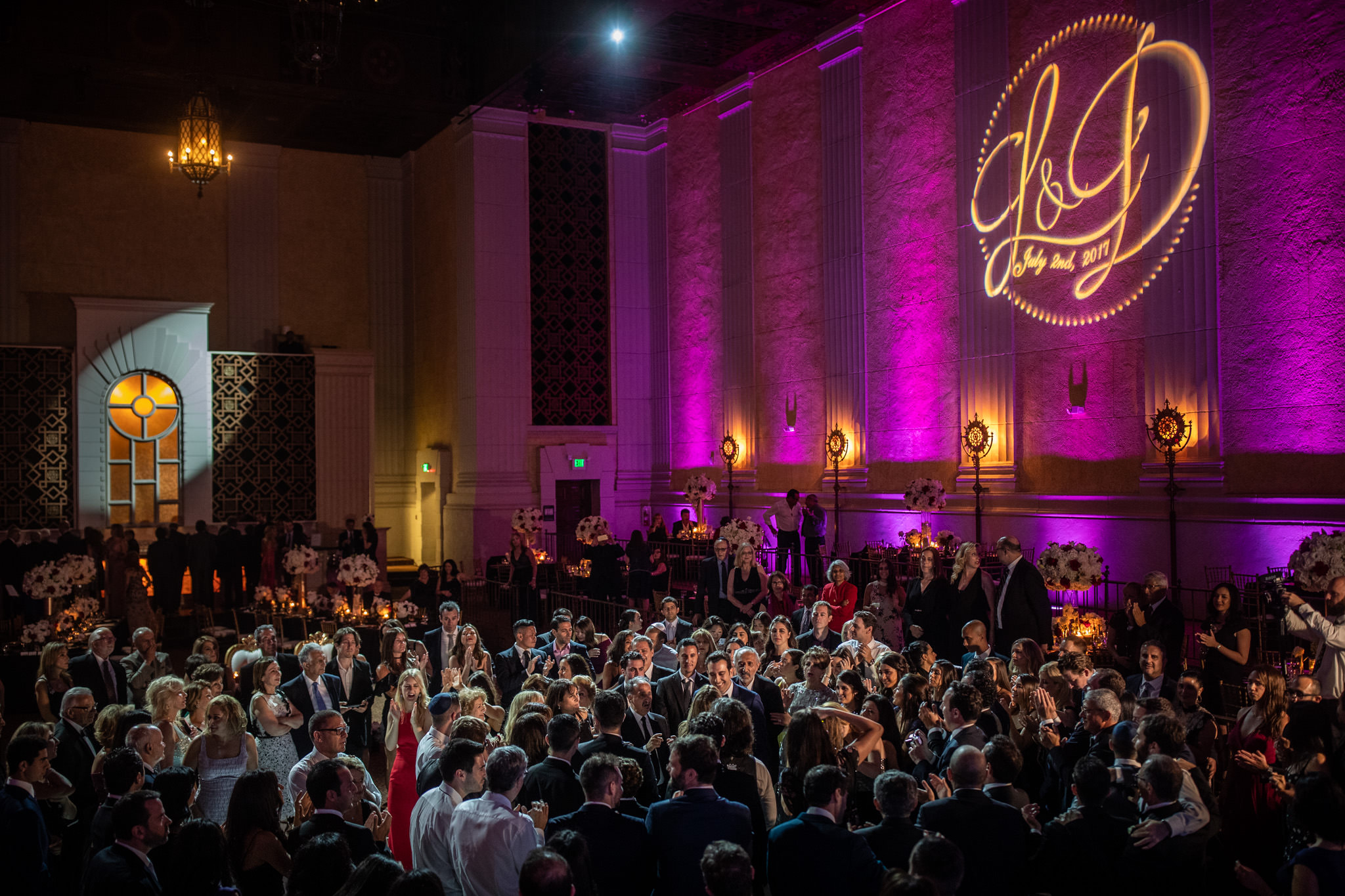 The downside to bigger weddings is you must plan on a bigger budget and you will spend a lot of the day talking to guests as they congratulate you. Also, in my experience as a photographer, you are typically limited to the venue for portraits. Unless you allot a specific time and a good amount of time for portraits you get a specific look which is the venue you chose.  If you are wanting a little more variety in your photographs an easy fix would be to plan an extra session another day (before or after) to get another location. This is a perfect idea because you also aren't stressed for time or worried about the schedule you get to focus on each other and just enjoy the moment.
Smaller weddings typically mean a smaller cost and that can give you more of options to work with.
If you are doing a destination wedding you have lots of options, the beach, mountains, restaurants, open fields. Your only limit on the location is budget and how you are wanting the rest of the wedding to be. The upside to having a destination wedding is obvious… TRAVEL and BEAUTIFUL locations.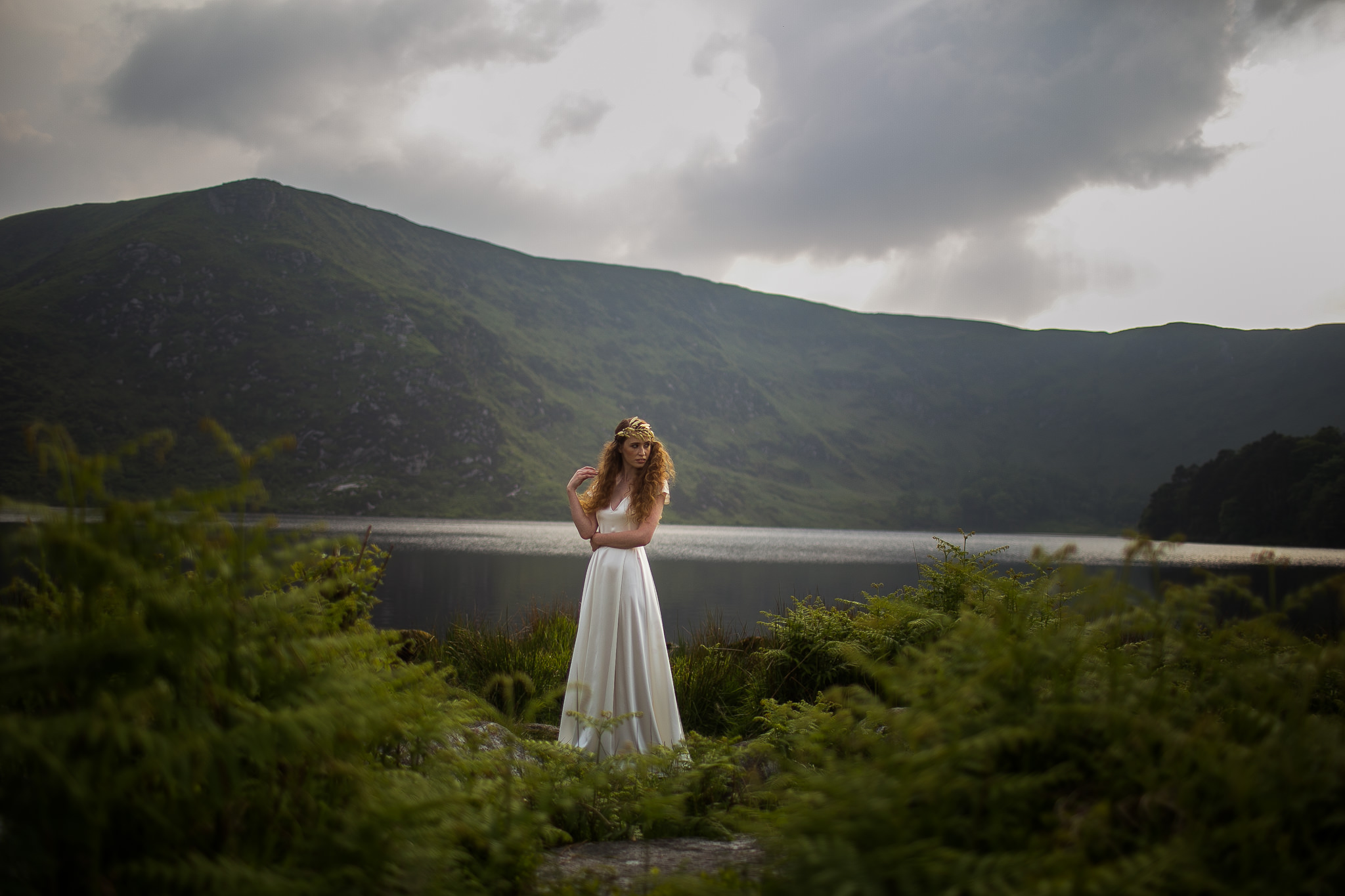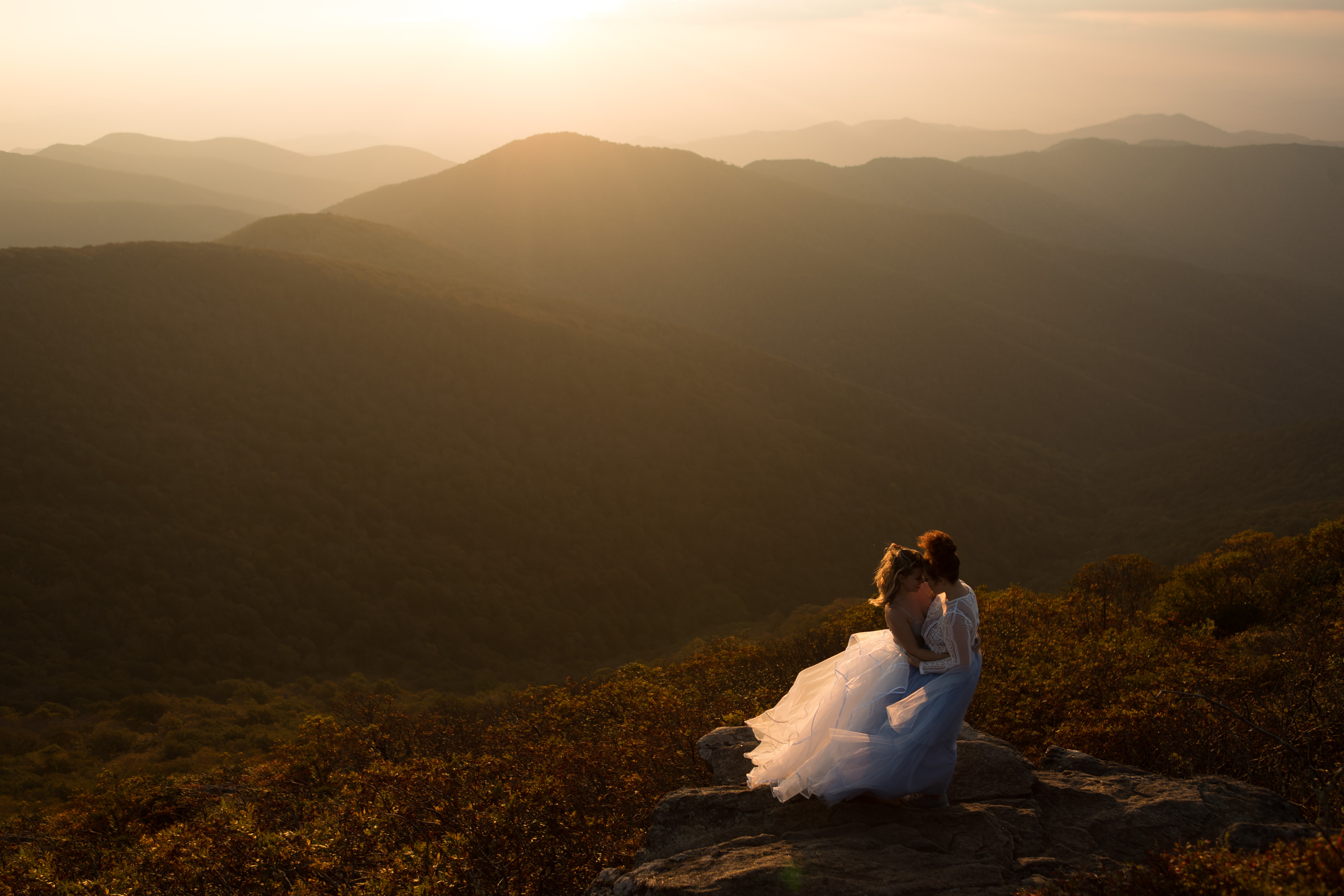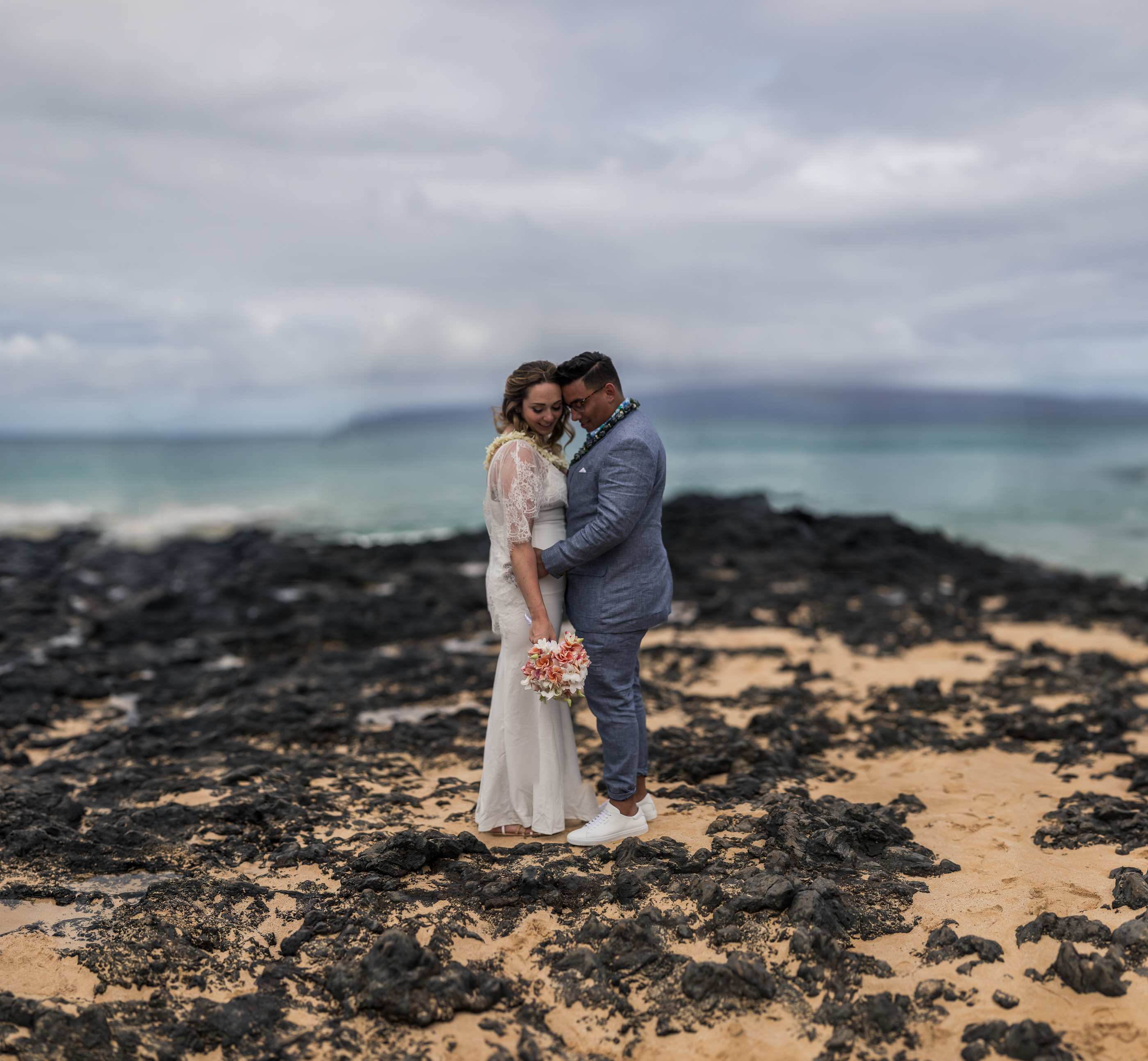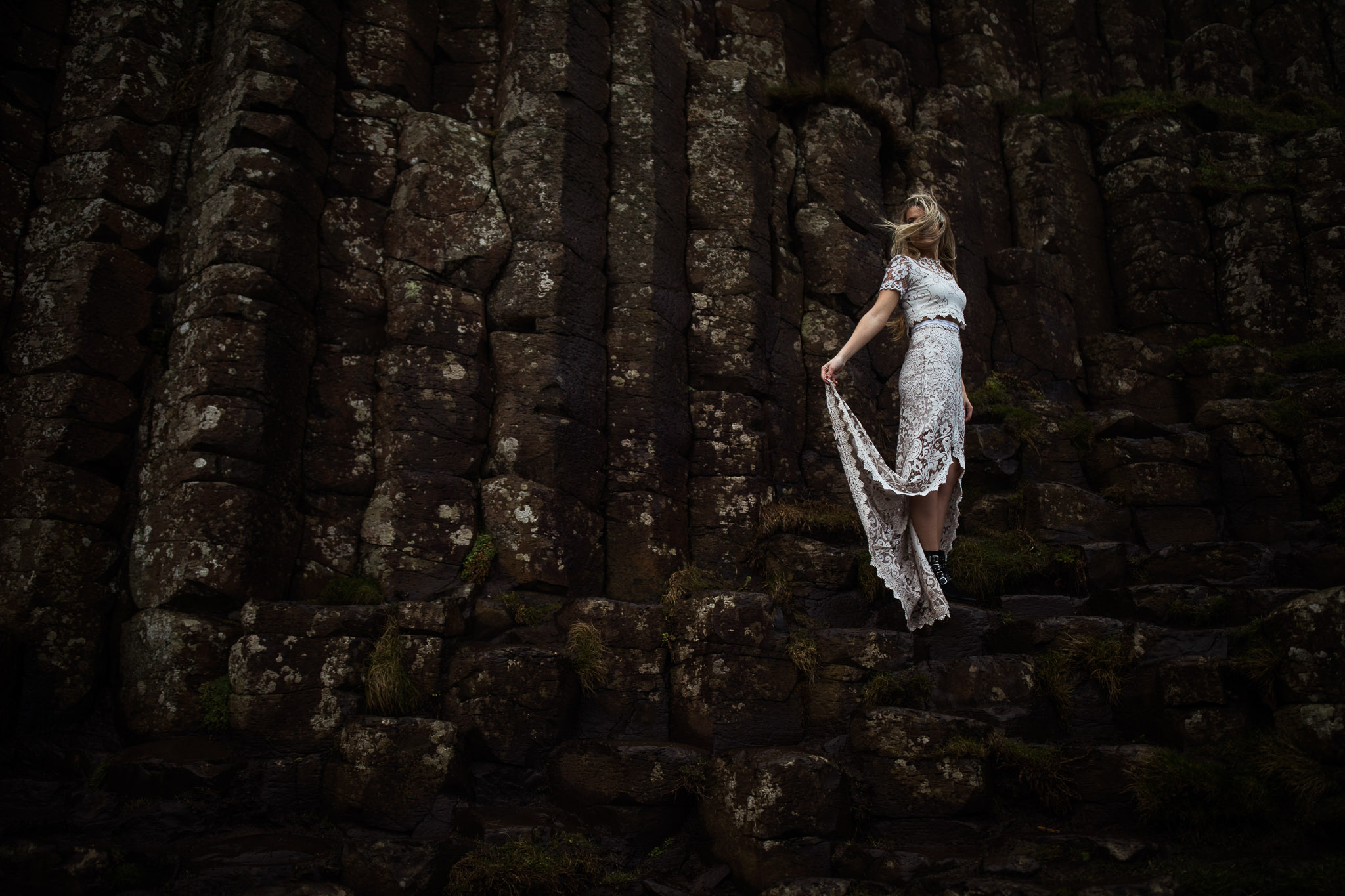 If you like beaches and international travel you get the honeymoon and wedding all in one. This can be an awesome time to spend with your close friends and family somewhere fun like Mexico or Hawaii. Other options are if you like camping and hiking or outdoors to find somewhere special to the two of you. Such as Zion National Park, Moab or the mountains of North Carolina. This experience can be very intimate and the opportunity for amazing photography is so easy! You have so much extra time to explore and take more portraits of the two of you.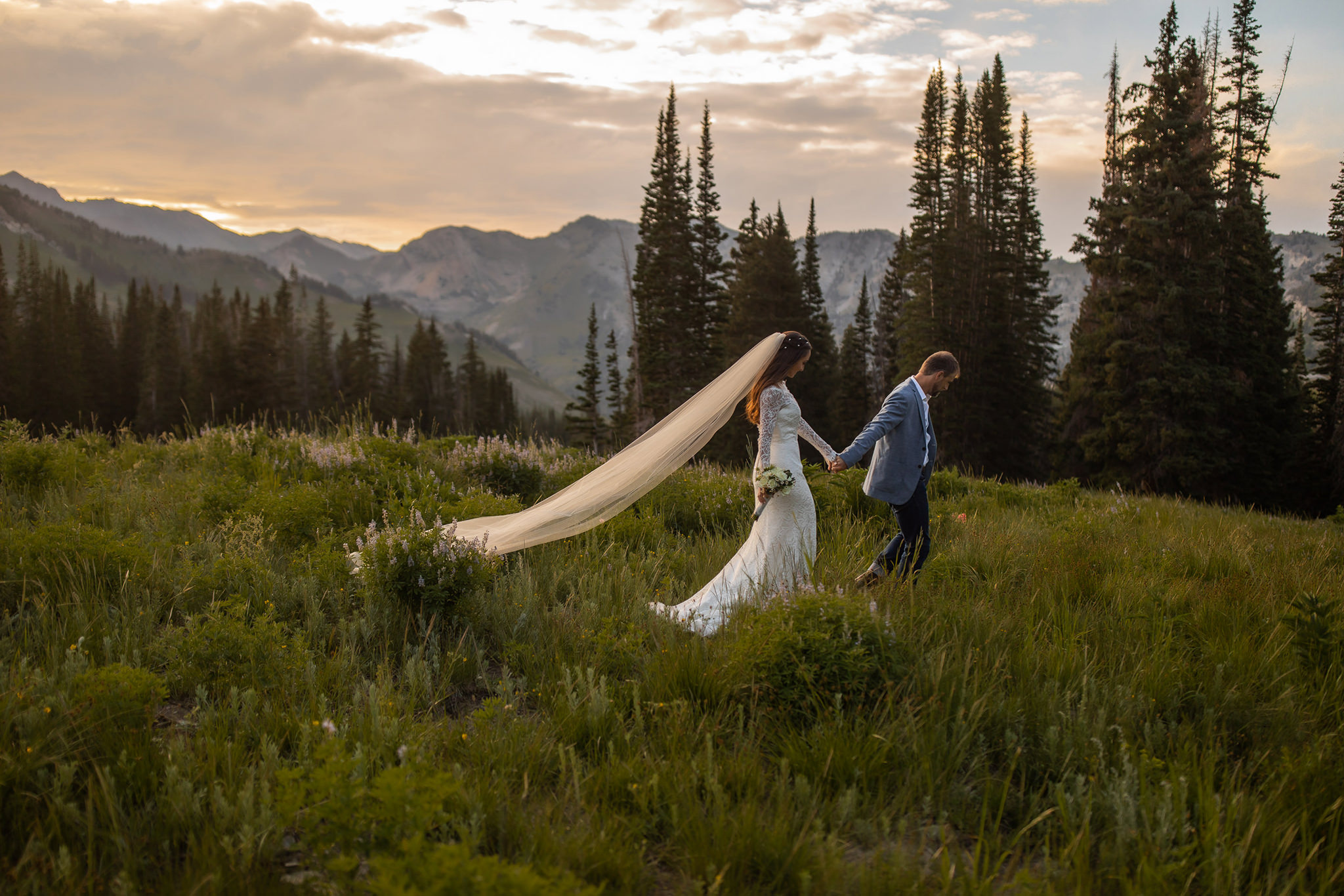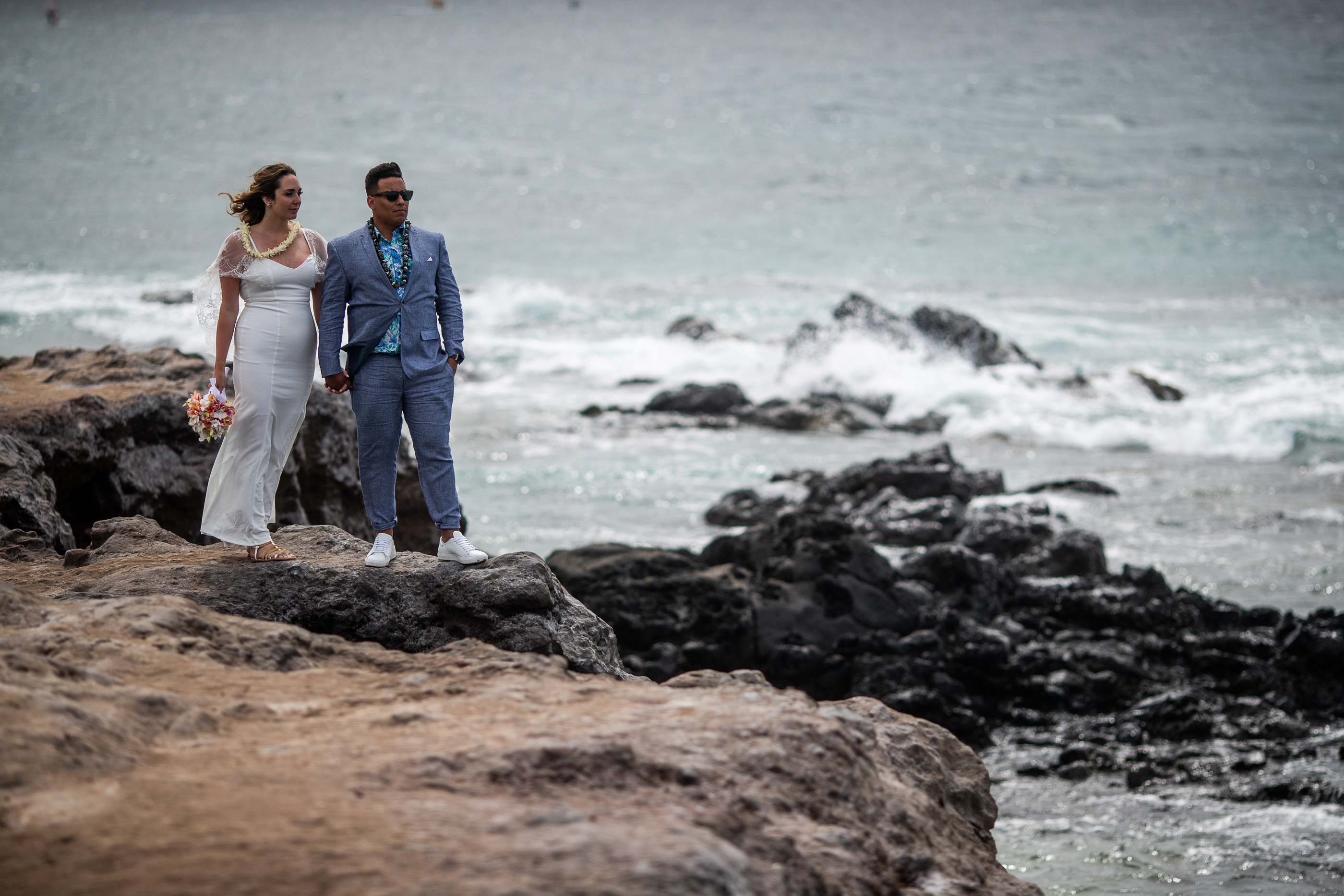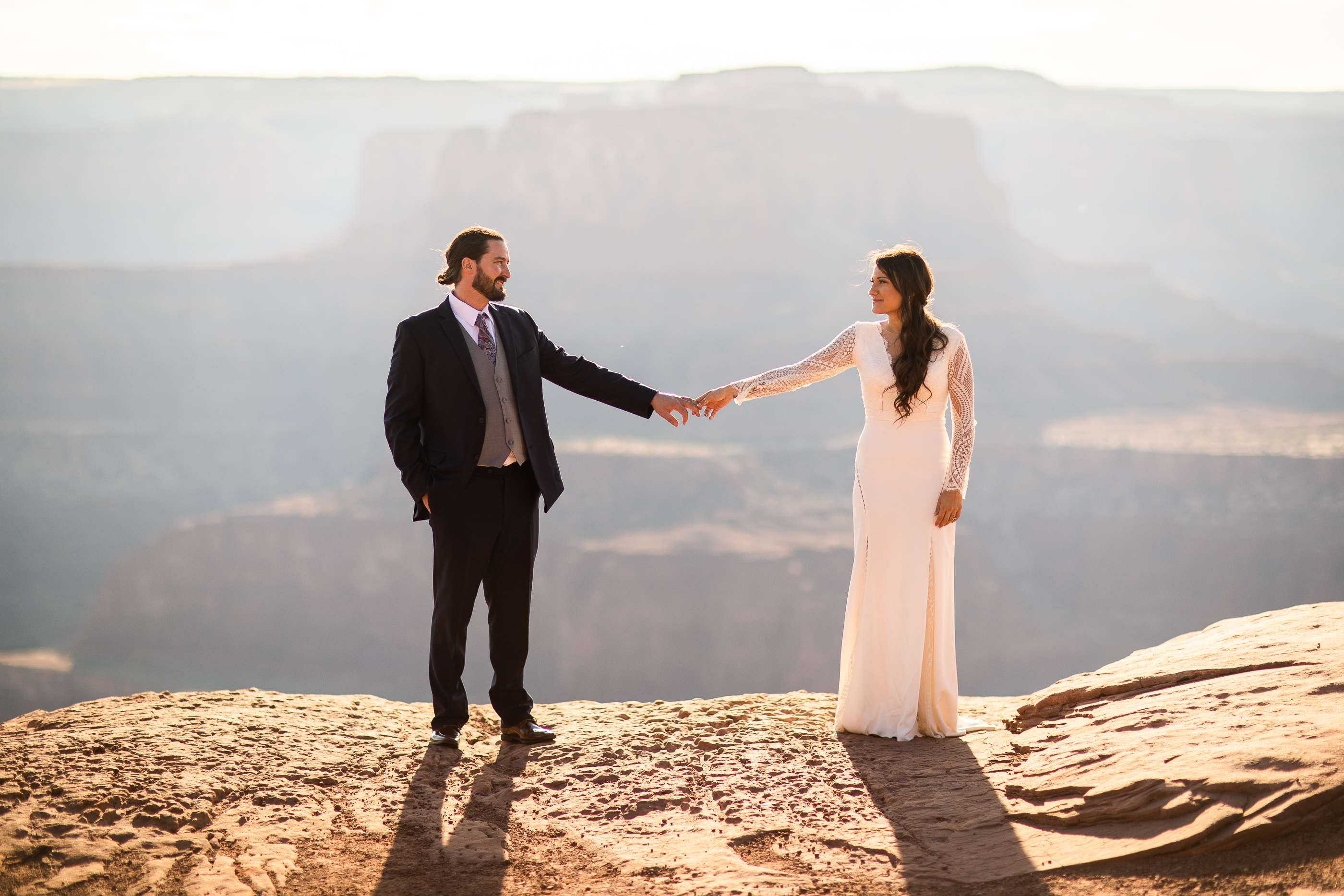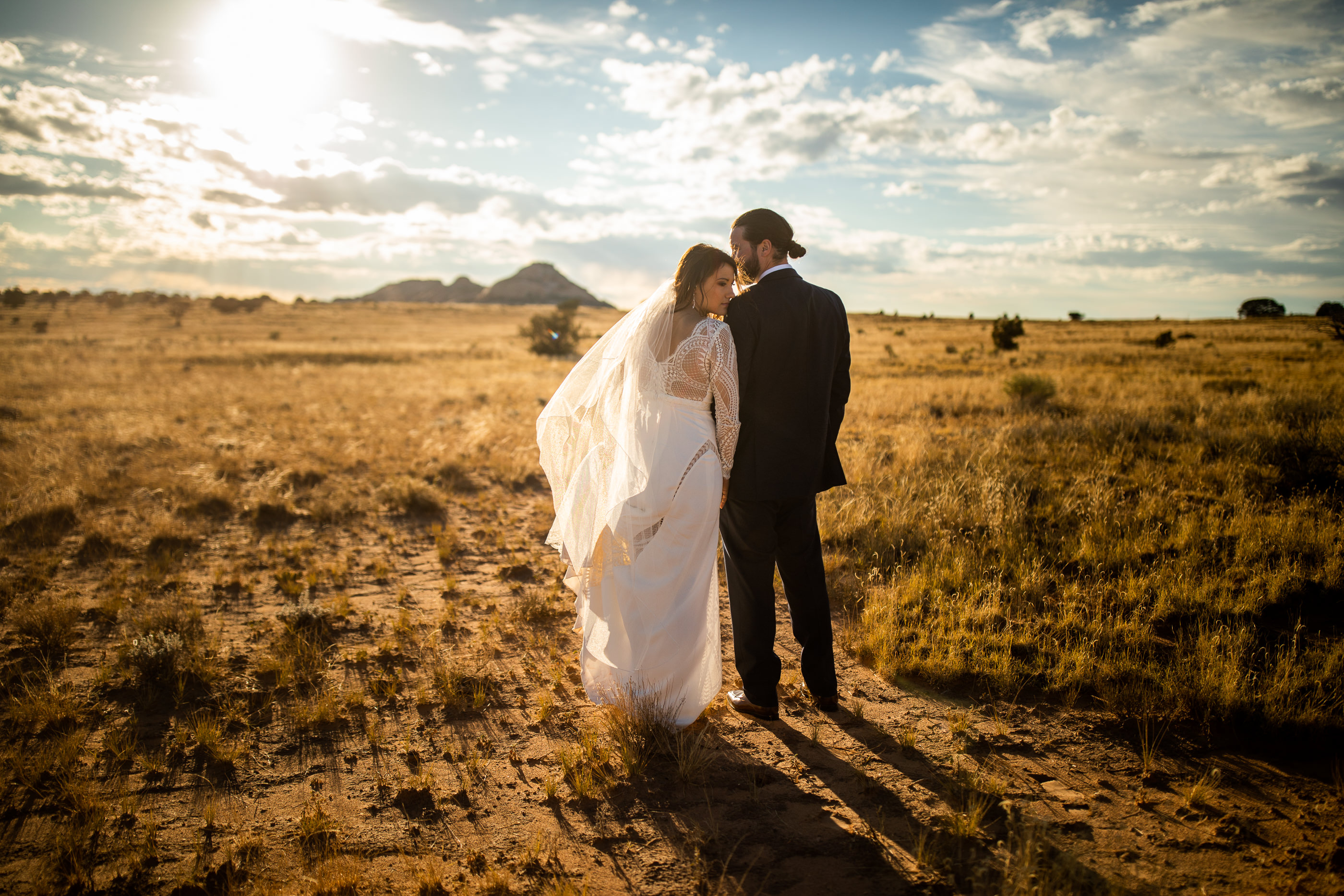 The downside to a smaller wedding or destination wedding is if you invite 20 people it's more difficult to have a dance party. You must be limited and very picky about who you invite, and some friends and family could be sad they weren't invited. Typically, these weddings are shorter also. Easy fix to this problem would be to have your ceremony at a fun international or destination location. Then a few weeks later have a fun party/reception near your friends and family to celebrate your marriage. (Best of both worlds, right?)
2. Selecting the style of your wedding.
If you have been on Pinterest or any wedding blog lately ( www.RockyMountainBride.com, www.greenweddingshoes.com or www.stylemepretty.com) You will see a HUGE variety of weddings. Remember – this is you and your future spouse's wedding. Pick something you will be proud of and happy to look back for years to come. Talk to friends and family who have recently planned a wedding. Ask them things they wish they knew, ask them what they wish they would have done. This will help you avoid some easy mistakes you might not think about in the planning process.
As for styles, you want to think what makes you as a couple unique. What are things you enjoy? Here are just a few examples I have seen and enjoyed. I will start from the most formal and then go to informal. Remember these are only a few… and the nice thing I have seen recently are couple meshing and mixing styles to fit them even more.
Hotel Black Tie Wedding – These are so much fun because you get to dress up in tuxedos and fancy dresses. The food is always DELICIOUS, and the reception typically has an awesome DJ or live band to make dancing until the early morning! Many times, with these weddings they are adult only events. Price per guest is normally between $50-$200 per guest and many times there is an open bar. This type of wedding is typically held at high-end wedding reception venues or hotels. Most of the time you would hire a wedding planner to help find and coordinate all the planning of the wedding and vendors along with the day of coordination. If a planner fits in your budget I HIGHLY recommend finding one. They will make the stress of your wedding day go down exponentially. They will deal with all of the problems and decoration and cleaning. I can't say it enough that a wedding planner is ALWAYS worth the money. (I will talk about this more in the next section)
Semi-Formal Family Friendly Wedding – This might be the most popular of weddings. It is a little more budget friendly. You can save some of your budget by offering a buffet line for food and dancing with a DJ at your reception. There are LOTS and LOTS of venues like this and many of them include an "event planner" to help you coordinate with your vendors. Remember this is not a wedding planner that will do everything for you. This is, more or less, a person the day of the wedding to help and assist setup and cleanup.
House Backyard Wedding – This type of wedding is fun and very personal. You can save on the venue and allow the budget to be used for other expenses. There can be a huge style difference depending on the size/style of the house. The downside of this is you are required to do everything yourself: Setup, organization, and cleanup. If doing a backyard wedding there are lots of day of coordinators to help you eliminate some of the stress.
Mountain/Outdoor/Small Wedding/Elopement – These weddings are fun and typically more intimate. Easier to plan and budget conscious. I have seen so many different types from campgrounds to Airbnb's to cabins. If you feel like planning more of a reception remember to consider electricity, weather and other things that might make it possible. I have seen awesome things for catering such as food trucks and buffet style catering.
3. Budget for your wedding – I can't say enough about this!
Budget is so important and the one thing I think is easily forgotten when planning a wedding. I want to start off by saying that any budget wedding is fine and perfectly ok. I considered making this number one. However, my thought was to think of your perfect wedding…. Then decide what your budget is… then you can determine if you need to save more for your wedding or alter the plans to fit within your budget. Write a list of the most important five things for your wedding. Then figure out how to fit them within your budget. If the photos are the most important on your list… find the perfect photographer then figure out how much you have left to make your perfect wedding happen.
I can without a doubt say that your wedding isn't any more important if you spend more. Your wedding is just as effective and important if you sign a paper in a courthouse or spend enough to compete with the Royal Wedding. Trust me… it's the same in the matter of effectiveness. Your love is most important. The most important thing I want to stress in this section is… DO NOT GO INTO DEBT planning your wedding!!!! I cannot stress this enough.
According to marriage.com Money is the #2 reason for divorce. And let's be frank… money isn't the reason… the stress of bills and lack of money is the reason. So why start your marriage with this added stress. If having a more expensive wedding is important to you… wait. Take your time, postpone and save! If not readjust and make some changes and prioritize. This will help you so much.
As a photographer, I want to say this upfront. The more you spend on a photographer also doesn't mean your wedding is more important. You do not have to have the most expensive photographer to make sure everybody sees how great your wedding is. In all honesty, you don't even need a photographer to have a wedding. I repeat… the most important thing at a wedding is your love – the rest is luxury. Don't get me wrong… I think having a good wedding photographer is important but not necessary. Find the very best photographer you can that fits within your budget! And if the quality of the photographer you want doesn't – readjust, rethink and revisit.
4. Trust your wedding vendors.
You chose your vendors for a reason. More than likely this is their fulltime job. They have seen a lot of things and are here for you. Ask them questions, ask them advice and trust them. Be honest and straightforward with them. If you have a smaller budget let them know and ask them what is possible within that budget. Most wedding vendors I have met are willing to help with planning a wedding with anybody that is straightforward and willing to talk.
Ask for help.
Most wedding vendors will know other wedding vendors and can lead you to other great vendors. It is in everybody's interest to give you good advice. For example, if you don't like your florist or the flowers you won't like any photos with the flowers. So, it is in your photographers' best interest to refer you to an amazing florist, baker, caterer, etc. The more you trust your vendors and have confidence they will do the best job the less stress you will have during your wedding. Which leads me to the most important tip.
5. Have Fun!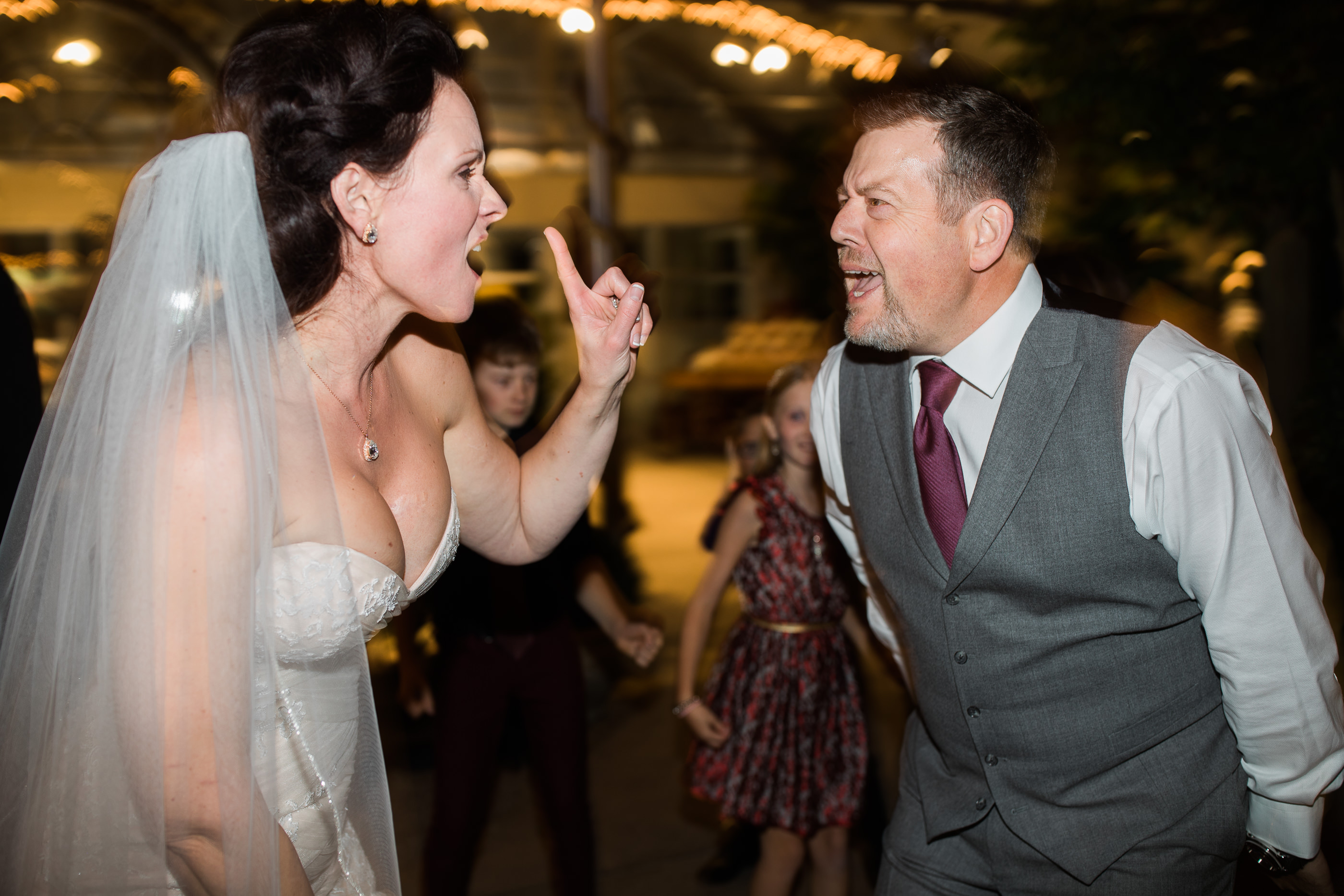 I know this sounds obvious but is very easily and often forgotten. Planning a wedding isn't easy especially because it's not something you do very often. Stress comes fast! Throughout the planning and everything that is happening, you can quickly lose sight of what's important in that process. This wedding is about your love between you two. DO NOT FORGET THAT! In each step make sure to remember that you two are the most important.
Plenty of times I have seen a couple elope somewhere quiet and romantic and come back to a smaller party for family and friends. That helps a lot with the stress and makes it easier on your budget too. Long gone are the days of tradition and the same old wedding. Be creative, be you!
If you are not sure how to get to your perfect wedding the internet can be your friend. Look at photographers blogs, Pinterest and wedding websites (Utah Bride Blog, Rocky Mountain Bride and The Knot are awesome resources). Also, feel free to ask your photographer (if you have found one already). Most photographers have seen lots of weddings and very different ideas. They will probably have galleries and photos of each of them also. You will be surprised how many new ideas you might have not even considered.
If you have any questions when planning your wedding or need any advice… fill out this form below. I would love to help.