Share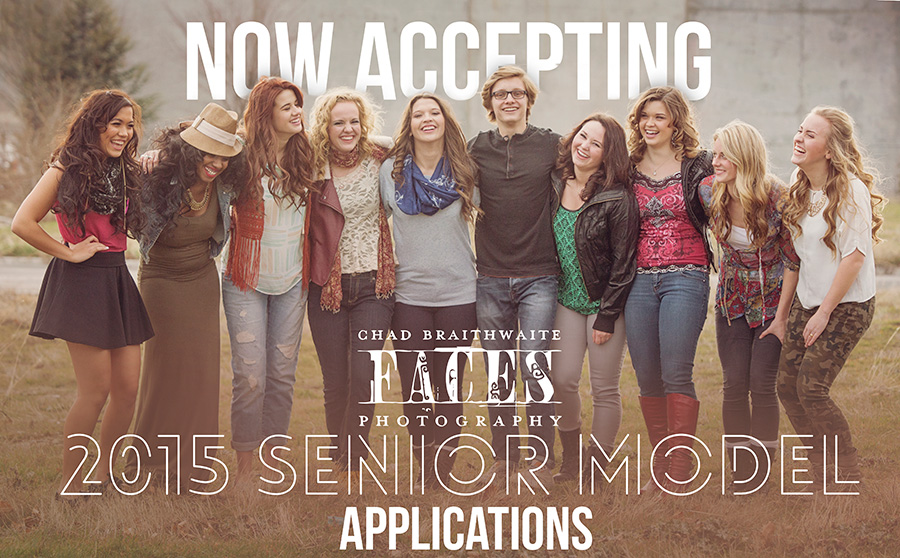 The 2015 School year is in full effect and we are wanting to start it off right! Last year our senior reps did such an amazing job, how could we not bring it back for the 2015 year even better than before.  Here is a little video showing how much fun our 2014 Senior Rep group was.
We would like to thank all of Last year's Senior Reps. It was our first year and we couldn't have had better reps. We would like to announce that we have changed the program a little and are now accepting applications to our 2015 Senior MODELS program. "Reps" sounds so informal and boring so we change it to "models" because its much more fun and exciting right?
For those of you who don't know what our Senior Model Program entails. Let us explain:
It is a fun exciting way to get FREE photos, meet new people and show off to everyone your personality and photos of your senior year. Basically we take your pictures and anybody that comes to Faces Photography to get their senior photos and mentions that you referred them — you get free stuff! Pretty easy eh? You are not required to purchase anything at all. Actually we don't want you to… we want you to get it all for FREE! And share it with your friends and family. Some of the prizes you win will be: a personalized photo phone case, Senior Graduation Announcements, A Senior Model Hoodie Pullover, 24×36 Gallery Wrap image and SOOOOO much more. Are you interested yet? Go now! What are you waiting for? It will only take a few minutes.
Applications will be due by Midnight November 9, 2015. And we will be selecting our next 2015 Senior Models. Good luck to all.